Covid19 / Coronavirus Situation
Following on from the recent government advice, we have taken the decision to suspend work for the time being. Most of our work can be classed as non essential.
In order to minimise the chances of spreading the virus, we will not be visiting customer's homes. We are awaiting advice from the Heath and Safety Executive and Gas Safe Register about how to go about future work and hope to have this soon. Once we can better understand the advice we will review the situation.
We trust that customers understand the seriousness that we take the advice to not travel or work if avoidable. We hope to be able to resume work and provide our usual service as soon as it is safe to do so.
If you suspect that you have a gas escape, please follow this link....
Business Information
Registered as a limited company in 2003, Harry Willis Limited is a small business that operates in domestic properties throughout the North East of England, installing and servicing gas appliances, including central heating.
With many years of ex-British Gas Service expertise, plus 16 years as an independant installer, you can be sure of a prompt, reliable service.
Being a gas installer relies heavily upon safety. The business is registered with Gas Safe Register (previously CORGI) which gives customers the assurance they need that they are dealing with a reputable installer, and ensures that work complies with stringent standards.
With full Public Liability Insurance, the company carries out work in a way that we would like it done in our own homes. Workmanship is fully guaranteed and only quality appliances and materials are used.
Honest, reliable and prompt
We will always try to keep to our arrangements and if there is an unusual reason why we cannot keep our promise, we will contact you as soon as possible, in advance if we know there is a problem.
We offer free estimates and advice, and cannot imagine how anyone could charge for giving a quotation!
This Website
If you use Google's Chrome browser and see a warning saying that this website is not secure, don't worry. Google have changed their rules about all websites and are trying to get everyone to use the HTTPS protocol, which is fine for site where you enter personal data, but not necessary for this site, as there is NO personal data stored on the site. The site does NOT use cookies, or ask you to enter anything personal to you.
News - Boiler Warranty
We can upgrade the warranty on Worcester Bosch boilers to TEN years with the fitting a magnetic filter to protect the boiler from sediment in the central heating system. This prolongs the life of a new boiler and attracts longer warranty than offered by most other boiler manufacturers. more....
Powerflushing
A lot of people ring us and ask about power flushing, usually, asking how much we charge to power flush a central heating system.
Recently we have taken a decision not to offer a powerflushing service, but we can advise on alternative ways to try to improve a heating system's performance. more....
Contact Us
We can be contacted by telephone FREE on our freephone number (see below) but if you use a mobile, you can call us on our usual mobile number.
We can be very busy but if you leave a message, we will ring you back as soon as we can.
0800 781 6854

0773 918 5779

We can be contacted by email using the address shown below and we will reply as soon as possible.

Gas Safe Register
We are Registered with Gas Safe Register and believe that it is essential that customers understand how seriously we take this.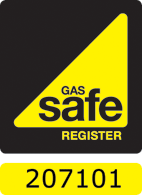 Please feel free to check our registration at the Gas Safe Register website