Combi Boilers
Combination ('combi') boilers are modern, high efficiency central heating boilers that also provide near-instant hot water. When you turn on the hot tap, hot water is delivered as needed. You do not need to heat up water in advance and store it. This means you do not waste money heating a tank of water and then letting it cool down. It also means you save the space taken up by water tanks and cylinders.
We are combi boiler specialists and can convert old, inefficient systems to modern, highly efficient ones. We can quickly and economically exchange older combi boilers that are giving problems - the latest models are far more energy efficient and economic to run.
There are some downsides to having a combi boiler and these should be considered. Firstly, the typical home has a cylinder in an airing cupboard. When a combi boiler is installed, the cylinder is removed and the source of heat for the airing cupboard is lost. Even if the new combi boiler is fitted in the old airing cupboard, the small amount of heat given off is less than was given from the cylinder. (If this is a problem, we can install a small radiator in the airing cupboard).
Another point to consider with a combi boiler is the hot water delivery or output. Many people have combi boilers and are unhappy with the water delivery, and they would probably advise you not to have a combi boiler. We often encounter customers who have heard these negative tales coming from dissatisfied customers who have had the wrong boiler fitted.
There are many makers of combis and some of these are not suitable for typical houses. Numerous builders and gas installers fit the cheapest boiler they can buy at the time, regardless of the quality or reliability. Often, these installers are swayed by manufacturers offering free gifts if their boilers are used.
We only fit quality appliances that will be reliable, efficient and that will provide adequate heating and hot water for your situation. Not all houses are the same and one family's use of hot water differs from another. The boilers and systems we recommend are not the cheapest, but they will be tailored for your needs.
Contact us and discuss your requirements. No obligation quotations provided, free.
We install and service gas appliances, specialising in central heating installation.
We carry out Landlord (CP12) Safety Checks and can report on gas installations prior to home purchases.
Gas Safe Register
We are Registered with Gas Safe Register (previously CORGI) and believe that it is essential that customers understand how seriously we take this.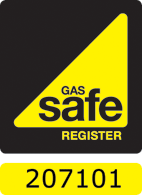 Please feel free to check our registration at the Gas Safe Register website