Contacting Us
Please contact us to discuss your requirements, or to find out more about the services we offer.
Telephone
We offer a freephone number 0800 781 6854 so that you can contact us at no cost to yourself. There are some mobile phone companies who charge you for calls to 0800 numbers - if yours is one of these, it may be better for you to call our mobile number 0773 918 5779.
Email
We are happy to reply to email using the following address
Please include a contact telephone number so that we can reply to you as soon as possible.
Post
Our business address is as below, along with other statutory information. (Please note that we do not have a showroom):
Harry Willis Limited, Company Number 4949969, Registered in England
Registered Office : 93 Monkchester Road, Newcastle Upon Tyne, NE6 2LL
Business Hours
We do not operate a 24 hour service. We are a small company and we have to sleep sometime! We strive to do our best to respond as soon as we can. For example, if you contact us on an evening or weekend, we will respond if possible, but if not, we will return your call or email on the next "working" day.
We do not have a standard working day, and each day varies, according to the job. When fitting central heating, we tend to arrive around 8.00 and work until a suitable time, typically around 18:30. For planned work such as service visits, we are flexible and can usually arrange to call at a time to suit you.
Our existing customers always get priority if they need us, as this is part of our service and it helps ensure we keep them as customers
We install and service gas appliances, specialising in central heating installation.
We carry out Landlord (CP12) Safety Checks and can report on gas installations prior to home purchases.
Gas Safe Register
We are Registered with Gas Safe Register (previously CORGI) and believe that it is essential that customers understand how seriously we take this.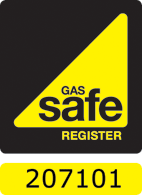 Please feel free to check our registration at the Gas Safe Register website