Gas Fire Servicing
From experience, many gas users have their central heating boiler serviced annually. Some only bother when they remember, or when something goes wrong. Even though we send reminders to our regular customers, some still only bother to have their boiler checked for safety when they think there is a problem. Often the problem could have been avoided if the boiler had been serviced on a regular basis.
Despite this, a greater concern is the low level of people getting gas fires serviced and checked for safety. Even people who get their boiler regularly serviced often do not bother to have their gas fire or fires checked. The usual reason for this is that they do not use the fire very often, only on a winter night or something similar.
Recent gas boilers are a lot safer than older models, mainly due to the flue being sealed to the room and improvements in safety features. Fires typically have "open" flues, or chimneys, and take air for combustion from the room they are sited in. These chimneys can become blocked with debris from the chimney itself, or more usually from birds.
It is often found that when a gas fire has not been serviced for some time, the chimney contains twigs, soot and other debris that can cause partial or even complete blockages. Once a chimney space is restricted, it becomes easier to block as more debris builds up, and the path for fumes from a fire becomes smaller and smaller. If this happens, it is very likely that the fire will not work as it should and fumes may enter the room rather than go up the restricted flue.
When fires are being used for the first time in the year, maybe without having been serviced for some time, there is always the chance that the flue or chimney area is in need of attention. For this reason, it is essential that gas fire users consider having their appliances checked for safety.
Our advice to gas users would be give serious thought to having gas fires checked in addition to their gas boiler. Obviously there is a cost involved, but it is worthwhile for safety and peace of mind. As a small business we are happy to advise customers on their appliances and the need for servicing, and can give a discount if we service more than one appliance on the same visit.
Contact us and discuss your situation and we will see what can be done. No obligation quotations provided, free.
We install and service gas appliances, specialising in central heating installation.
We carry out Landlord Safety Checks and can report on gas installations prior to home purchases.
Gas Safe Register
We are Registered with Gas Safe Register (previously CORGI) and believe that it is essential that customers understand how seriously we take this.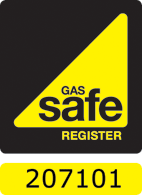 Please feel free to check our registration at the Gas Safe Register website