Honeywell evoHome Installer
We are proud to have completed training by Honeywell in their evoHome controls. We can design, install and commission an energy efficient, zoned, remotely accessible system for your home, based upon the evoHome system.
evoHome allows much better control of your heating system than other control solutions, offering access to your system from your phone or internet. It can be set up to divide your home into zones, each of which can be set to a temperature that suits you and your way of living.
Using a zone-based heating system allows you to heat a zone to a dfferent temperature to another zone, and can mean that savings are made on your energy bill. If there is a room or zone that does not need to be heated as much as another zone, it can be set to a lower temperature. While this can be done using traditional thermostatic radiator valves, it is less flexible and does not allow for scheduling of the heating for those zones. With evoHome, each zone can have it's own timed heating pattern.
Often, the evoHome control system can be added to your existing heating system with little or no changes to the layout of the radiators and pipework. There is some electrical work to be carried out to connect the controls to the existing system, and some pre-installation survey work to be done, as well as some commissioning of the new system. In some cases, new radiator valves or changes to pipework may be needed but this can only be determined by a visit to investigate the existing system.
We are member of the Honeywell Installers Network and can be relied upon to provide a professional service that is supported by Honeywell's technical backup. Contact us for more details.
Other Controls
We rarely fit controls by other manufacturers, finding that Honeywell heating controls offer the flexibility and reliability that we prefer to offer customers. We can fit controls to existing boilers and systems that give more control than older systems usually have, and can often add a thermostat to a system with little disruption to your home. By adding a new thermostat to your existing system you can achieve greater control of the temperature and have a much better potential for saving energy, so reducing your energy bill.
Contact us for more details.
We install and service gas appliances, specialising in central heating installation.
We carry out Landlord Safety Checks and can report on gas installations prior to home purchases.
Gas Safe Register
We are Registered with Gas Safe Register and believe that it is essential that customers understand how seriously we take this.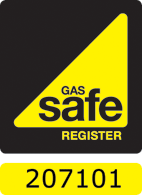 Please feel free to check our registration at the Gas Safe Register website