Appliance Installation
Please contact us to discuss your requirements, or to find out more about the services we offer.
We only install quality appliances. These are appliances that we know to be reliable and that perform well. In the case of central heating boilers, we only install boilers from Worcester Bosch.
When people ring up and ask for a quotation to fit a central heating boiler or other appliance, we nearly always have to explain that we need to look at the job first. The price of a job is totally dependant upon what appliances are in use now, what equipment is required, and what work is needed to install it. Each home is different and without seeing a job, it would be wrong to quote a price first and then have to alter it when viewing the job.
Be very cautious of companies who advertise and say things like "a central heating boiler, with 7 radiators and a 5 year warranty - from £2000". Firstly, they always state the word from, and usually, it ends up costing more. Secondly, what will they actually give a warranty on? Probably their work, and not the appliance or equipment.
Normally, appliance manufacturers give a 2 year warranty on central heating boilers, 1 year on other appliances. With Worcester Bosch boilers, we can offer a minimum 7 year warranty, and sometimes a 10 year warranty, as we are an Accredited Installer for their appliances.
Contact us and tell us your requirements and we will discuss them and come out to see what can be done. No obligation quotations provided, free.
Second Hand Appliances
We are sometimes asked to fit appliances which are not new, usually cookers.
Being guided by advice from CORGI, (who were previously the regulators of gas work), we do not fit appliances without a proper set of installation instructions, or if the appliance is damaged, or has been modified.
This is to protect our customers (and ourselves) from potential danger brought about from not having the correct manufacturer's installation instructions.
Contact us for more details.
Menu
Flueless Fires
For safety reasons, we do not fit or service flueless gas fires. These type of fires use a special catalyst to convert products of combustion into CO2, and produce water vapour, often noticeable as condensation.
If for whatever reason, the fire does not burn correctly, soot can be produced, which could cause carbon monoxide to be released into the room (as the catalyst elemnent can no longer do its job when sooted).
Regular and proper servicing is vital to ensure continued safe operation and we would suggest that a good quality carbon monoxide alarm is utilised when a flueless fire is used.
We install and service gas appliances, specialising in central heating installation.
We carry out Landlord Safety Checks and can report on gas installations prior to home purchases.
Gas Safe Register
We are Registered with Gas Safe Register and believe that it is essential that customers understand how seriously we take this.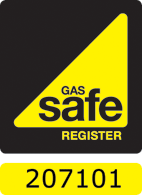 Please feel free to check our registration at the Gas Safe Register website