Gas Appliance Servicing
Gas appliances should be regularly serviced, at least once a year. Even with a new appliance that carries a warranty, a service carried out by a registered engineer is required to ensure the warranty is valid.
Regular servicing helps to keep your appliance working safely and efficiently. Regular servicing should also prolong the life of your appliance.
In simple terms, a service includes:
Visual examination of the appliance and its flue to confirm that it is suitably located and installed in accordance with all relevant regulations.
Examination and cleaning of combustion chamber, fan, heat exchanger burner etc. Examination and testing of appliance, flue, safety devices, controls and components.
Checking and adjusting burner pressure and gas rates.
Confirming that the appliance is capable of safe operation.
In terms of servicing prices, these depend upon the appliance type and range from £45 - £66. Discounts are available for multiple appliance servicing in the same home, on the same visit.
Properly installed appliances that are checked regularly should be safe. However, if you notice any of the following, you should switch off the appliance immediately and contact a registered installer:
Sooting around the appliance
A yellow / orange 'lazy' flame (except real flame gas fires)
Excessive condensation in the room
Carbon Monoxide
With recent tragedies here in the UK and abroad, carbon monoxide poisoning has been in the news and various campaigns have highlighted the need to be more aware of the dangers of using gas appliances safely.
As well as regular servicing, we offer a safety check to test for the presence of carbon monoxide in a room or rooms where there is concern. A one-off check can give piece of mind, as can the installation of a carbon monoxide detector in rooms where there is a gas appliance. We can advise on this and can supply detectors.
For further information on the problems of carbon monoxide, see this Health & Safety Executive advice
Gas Fire Servicing
For important information on gas fire servicing, click here...
We install and service gas appliances, specialising in central heating installation.
We carry out Landlord Safety Checks and can report on gas installations prior to home purchases.
Gas Safe Register
We are Registered with Gas Safe Register and believe that it is essential that customers understand how seriously we take this.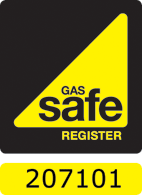 Please feel free to check our registration at the Gas Safe Register website